Donate Securely
All monies go directly to the Home and the Dogs' Kennel Fund

Become a Member of FCDH
The Forum is free but you can become a member of Friends of Cardiff Dogs' Home and make a real difference at £5 per year (individual/family membership). You can pay with a credit/debit card if no Paypal account
Cardiff Dogs' Home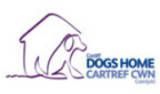 Cllr Margaret Jones, Executive Member for the Environment said: "The Cardiff Dogs Home looks after more than 1200 dogs a year, and is really committed to caring for all of the dogs in its care. I would urge anyone who has an interest in the welfare of the stray dogs of Cardiff and the work that goes into finding them new homes to think about joining the 'Friends of Cardiff Dogs Home' group. There are many ways to support Cardiff Dogs' Home. Whether you are able to volunteer your time or make donations, no matter what you do, it all helps."




Fundraising with Friends
One reason that 'Friends' has been set up is to help Fundraise for the Dogs Home and we are looking for volunteers to help raise funds, whether as a one off or on a regular basis, either going out and about or from the comfort of your own home.

We're sure you have more of your own ideas so please join in on our forum. We are a very friendly crowd, dedicated to helping the work of the Dogs' Home and would love to see you.


<! -- ***NOTE*** Place any extra added side tables above this line // -->

Friends of Cardiff Dogs' Home :: Home

Forum Name
Topics
Posts
Last Post
..
About Friends of Cardiff Dogs' Home
Please take a minute to register by clicking on the 'Register' button in our logo.
You can then join in and post

6
48
on May 18, 2013, 9:48pm
by bex1984
in Cardiff Dogs' Home Pho...
Kong for a Kennel
Part 1 of our Environmental Enrichment Program

1
29
on Feb 11, 2012, 12:20am
by Baglady
in Part 1 - Kong for a Ke...
The Sensory Garden
Part 2 of our Environmental Enrichment Program

8
169
on May 5, 2013, 8:21am
by daffysmum
in 2. The Sensory Garden -
Soft, Soothing Music
Part 3 of our Environmental Enrichment Program

1
4
on Apr 2, 2013, 4:37pm
by emmanewt
in Here Comes The Science...
Welcome to Our Forum
Please Come and Introduce Yourselves and Your Pets
Need help with the Forum? Click here.
NEW QUICK WAY TO UPLOAD PHOTOS HERE

123
794
on May 19, 2013, 11:14am
by kathleenj
in hello!
Friends Chat
Come in and see what's occurin'

267
2,648
on May 17, 2013, 12:22am
by Baglady
in Dog sitter HELP
Our Dogs
The Dogs Looking for Adoption & Dog Walkers Tales! - 3 Viewing
They so deserve their own homes and will reward you in bucket loads.
Don't forget the Dogs on Page 2!!

31
359
Yesterday at 9:44pm
by Baglady
in K34 Blue 2-3yr old JR ...
Happy in their forever homes! - 1 Viewing
Updates on our rehomed dogs

679
8,753
Yesterday at 9:55pm
by Joanne
in K36 Penny - Pretty Col...
Advocacy for the Dogs
Be a Voice for our Dogs and Responsible Dog Ownership

21
259
on May 8, 2013, 7:44pm
by Baglady
in Dog Walking Groups in ...
Rainbow Bridge
Never Forgotten

34
736
on Apr 10, 2013, 10:06am
by annewatkins
in Cage, Lulu, tiniest li...
Help to Raise Funds For the Dogs' Home
Our Very Good Friends, Woodlands, Sorted & Tresor O Le
A Fabulous group of our lovely Friends who help our dogs throughout the year with gifts,
crafty donations, and their own special bit of 'magic'!

6
30
on Nov 2, 2012, 8:49pm
by plasticflower
in Halloween 2012
Come & Join Us - How you can help us help the Dogs
As little or as much as you want, out and about or at home in your PJ's eating chcolates.



20
218
Today at 2:53am
by Baglady
in Getting into the Swim ...
Got a Fab Fundraising Idea? Post Here
Help, Hints and How To's and What You Need to Know - Coming Soon

3
11
on May 5, 2013, 9:58am
by legoman
in easy money
Friends' Marketplace - Open 24/7
Visit our online stalls from the comfort of your home and support our Kennel Fund.


8
85
Yesterday at 4:47pm
by CazDD
in Re: Clothes/shoes/bags...
Fundraising Crafty Items - can you use your crafty skills for Friends
including our Crafty Wanted or Offered Section

36
368
on Mar 25, 2013, 7:28pm
by cheryl
in WANTED Duvets for Wood...
Friends of CDH Clothing
Order Here Now

8
232
Yesterday at 9:14pm
by daffysmum
in 6th Order - Special De...
Events
Friends of Cardiff Dogs' Home Events for 2013
Come along, join in the fun! Photos included after the event!


127
2,147
Today at 3:19am
by Baglady
in May 27th B/H Monday S...
Other Animal Rescue's Events
Please feel free to post your Rescue's events -

26
171
on Mar 31, 2013, 3:04pm
by amyjo
in Woof Factor 2013 - 1st...
Photo Record of Previous Friends Dog Shows


15
244
on Aug 18, 2012, 9:45am
by Baglady
in Community Fun Dog Show...
Info Center
Forum Statistics

1 Staff Member, 0 Members, 5 Guests. Most users online was 111, Jan 18, 2013, 5:28pm
sandraehale

| | |
| --- | --- |
| Active Users In The Past 24 Hours | |

14 Staff Members, 26 Members, 686 Guests
sandraehale, jenpen123, llanidan, daffysmum, k, skye, kathleenj, Baglady, becky1, lucee, cherylW, venessapassaro, lisa, Andrea, sd, nuggie, jstar (Jen), karennn, hilarydobbinson, wendybend, lianne, seonlasil, jakesmum, robpow6, stephandalfie, cerisp, dianec57, baloosmum1, loulou, hanwills, CazDD, amyjo, Splottlands, elemoy, jimmytay, additions, Biscuits_mam, bettyboop, laura, kirsty
Login
Login with your social network or forum account: